On

24-Jan-2019

By

Deep Roy
Snowfall in Sikkim
Sikkim, a state of India which lies in the lap of Himalayas is one of the coldest places in the country. The North Eastern part of India is home to one of the tallest peeks in the world, Kanchenjunga, where the temperature falls as low as -32° C. During winter the average temperature of Sikkim is between -7°C to 5°C.
Snowfall After a Decade
It was since 2008 that the people of Darjeeling and Sikkim didn't see snowfall but at the end of 2018 after a decade the people enjoyed the charming view of the snowflakes falling. On Friday afternoon, the last weekend of the Year the beautiful sight of snowflakes was witnessed by people of Darjeeling and Sikkim. The year ended with a beautiful ending and bright expectations and hope to begin with a new year.
Parts of Gangtok, Nathula, Ravangla also witnessed snowflakes. The Tourists and locals were thrilled with the view but unfortunately it was also the cause for the tourists who got stuck at Nathula due to heavy snowfall. The tourists were stranded and had to wait for a long period until the roads were clear. Around 2500 tourists were rescued by the Indian Army. The troops of soldiers ensured the protection of the tourists. For some people it was beautiful ending of the Year but for some it was very challenging.
Snowfall Areas in Sikkim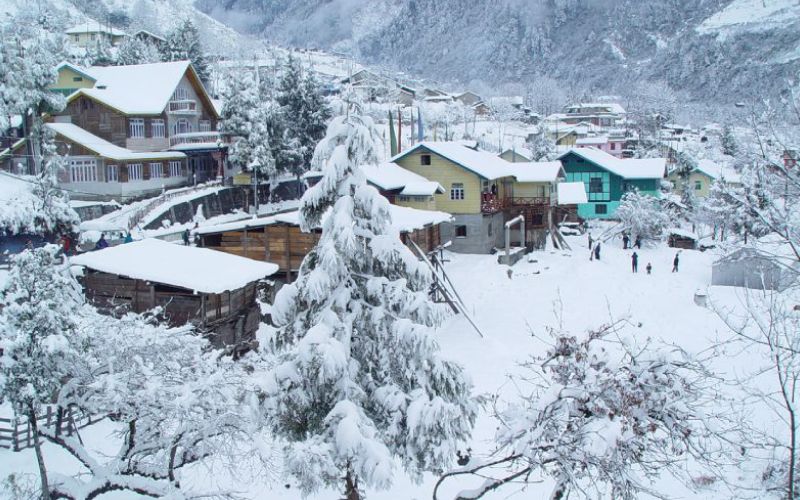 Some people are often confused about the places where they can enjoy the view of snowfall. Places like Nathula, Tsomgo lake, Gurudongmar lake, Yumthang, Zero point, Zuluk etc. gets tons of snowfall every year. To be precise region of mostly North and West receives snowfall every year.

The best season to experience snowfall would definitely be in winter if one can bear the cold but the snow remains till the end of March in most of the places. However, visiting these places during winter may not be possible due to heavy snowfall and roadblocks which increases the risk to travel to these places. But still one can enjoy the snow during autumn as well and to be precise the time period between April to October is considered as the best time to visit Sikkim. 
Some people often ask about the best places to visit in Sikkim, but it is actually a tough question to answer. Each and every bend and turns of the state provides something special and unique, but if someone is willing to visit Sikkim with the main motive to enjoy snow then the northern region of the state is preferable. Western region is also recommended to visit Mount Kanchenjunga, keeping in mind the eastern and southern part is also equally beautiful except for the availability of snow.