On

07-Dec-2019

By

Sangay Palmu Bhutia
India's first Skywalk in Pelling, West Sikkim
Nestled at an altitude of 7,200 feet above the sea level lies the spectacular Skywalk of Pelling along with the fourth tallest statue of Chenrezig. It was inaugurated in November 2018 and since then it has flourished to become one of the famous tourist attractions. It is the India's first Skywalk and home to a 137 feet statue of Chenrezig making it a Buddhist pilgrimage site. Chenrezig also known as Avalokiteshvara is the early manifestation of Buddha's compassion. 
Skywalk opening hours: The opening time of the Pelling Skywalk is 9 am to 6 pm, the 9 hours provided gives ample amount of time for the people to get a chance of enjoying this thrilling walk.
Skywalk tickets: Though it is the India's first Skywalk the entrance fee is very reasonable and affordable for everyone.The fee is Rs. 20 for local and Rs. 50 for non-local.
Skywalk highlights: The visit to Pelling would not be complete if you don't dare to visit Skywalk and walk on those glass floor. The height of the Skywalk being tall makes the walk more exhilarating. If you try to look down through those transparent glass it will surely pump up your excitement levels. From this point you can see the 137 feet statue of Chenrezig and the long elevated stairs with prayer wheels on both sides, the adjacent mountains and valleys. The Skywalk is also the perfect spot to take a good picture.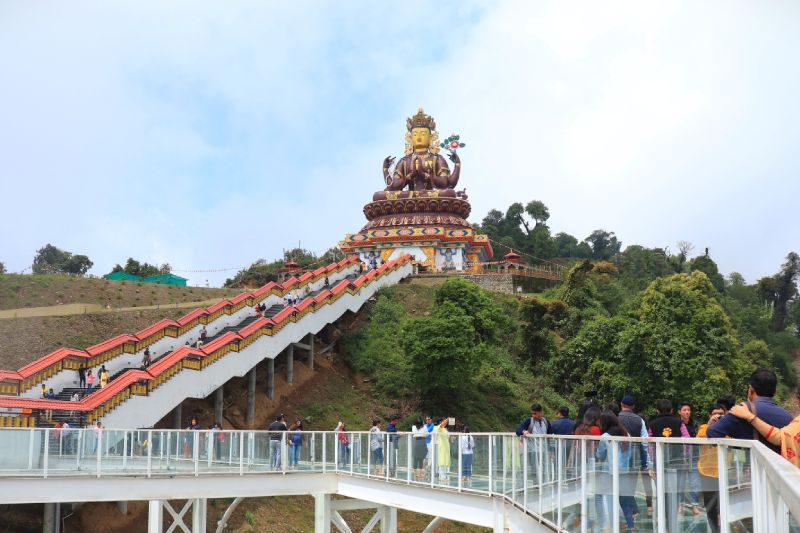 Chenrezig Statue: To reach the statue you have to climb several stairs and it has prayer wheels on either sides. Upon entering you will see prayer place with statue and lamas or monks chanting prayers they also help in offering prayers. After finishing your puja you can take a look around the architecture. There is a round way path which will take you to the top floor of the structure and on the way up you will be able to see the paintings of history and stories about Chenrezig. When you reach the top there is an area provided for you to take a closer look at the statue you will be able to appreciate every tiny detail put on this magnificent statue and when you will take a look down you will be able to see the entire compound. The view is very beautiful,  you can see the artificial lake with statues all around it, the Skywalk, prayer wheels, long stairs and to complete all of it the beautiful scenery of nature all around it. The visit here will be soulful.