On

19-Feb-2020

By

Drive to Northeast
How to reach Gangtok from Bengaluru and 15 things to do in Gangtok
Gangtok, the capital of Sikkim in Northeast India is calm, serene and completely picturesque. If you are planning a trip from Bengaluru to Gangtok, the following details can help you in this regard. The distance from Bengaluru to Gangtok is nearly 2138 km, it can be traveled by flight and train.

Bengaluru to Gangtok By Air
Since Gangtok does not have an airport there is no direct flight connectivity between the two places but you can check the availability and book flight tickets to the nearest airport.

The closest airport to Gangtok is in Bagdogra(IXB), West Bengal which is about 124 away from Gangtok. There is a direct flight which takes almost 3 hours from Bengaluru to Bagdogra(IXB) and there are few connecting flights too which have layovers at Kolkata, Delhi, and Mumbai, these flights can take from 5 to 27 hours.
On reaching Bagdogra Airport you can hire a shared taxi or a private vehicle to reach Gangtok. It takes 4 hours to reach Gangtok, without doubt you will enjoy this drive because the mountains and the Teesta flowing along with you is quite a beauty to go unappreciated.
Bengaluru to Gangtok By Train
Gangtok does not have a railway station. The closest station to Gangtok is New Jalpaiguri, West Bengal so you have to check the train schedule and availability and accordingly you have to book tickets.
The trains between these two cities run everyday except Sundays and Mondays. The time of travel depends on the train but usually it takes about 45 to 47 hours. When you reach New Jalpaiguri you are now at a distance of 127 km away from Gangtok and one can hire a taxi or board a bus from the station to reach Gangtok. It takes approximately four hours to reach Gangtok from New Jalpaiguri.
THINGS TO DO IN GANGTOK

Gangtok, the capital of Sikkim, lays in the lap of the Himalayas with its absolute beauty and majestic sceneries decorated with pristine rivers, snow capped mountains and wonderful nature which attracts tourists all year long.
Gangtok is an ideal place to enjoy a wholesome vacation, from sightseeing to adventure there are numerous activities to enjoy. There is so much to explore and experience in Gangtok so here is a list of 15 things that you can do in Gangtok, you can take a look and take your pick:
1. M.G Marg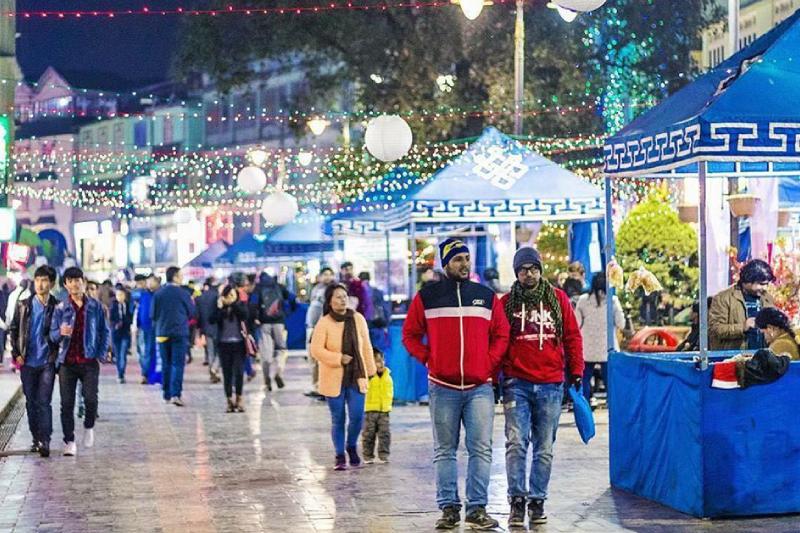 MG Marg or the Mahatma Gandhi Road is the heart of the town. It is a stretch of about a kilometer and what makes it more welcoming is its amazing ambience. The Marg is beautifully planned with benches for seating, there is an ample amount of area provided to stroll the Marg which is covered with cafes, shops, hotels, restaurants and many more stores.
The Marg is decorated with flowers, lights and water fountain. You can taste the local cuisines and enjoy the authentic dishes of Sikkim in numerous hotels. Many events take place in MG Marg from commercial, food, cultural, traditional to many more. You may also be able to enjoy the exquisite winter carnival which is held in MG Marg.
2. Cable Car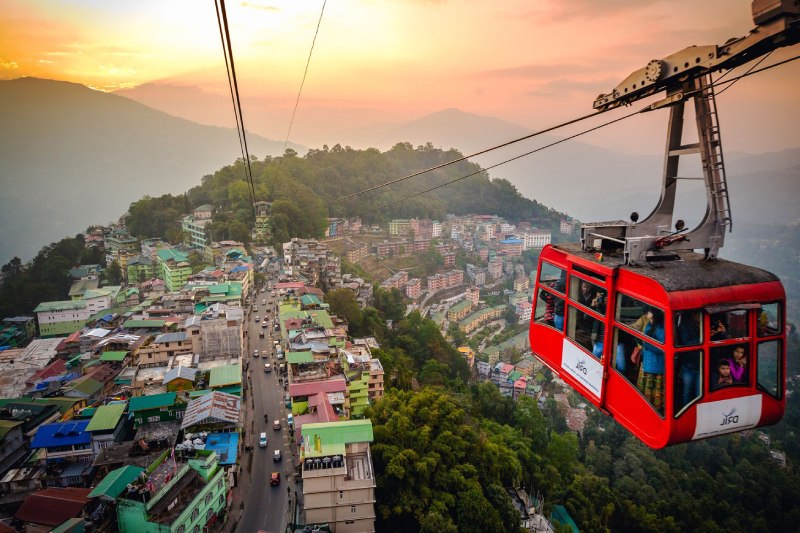 The cable car ride also known as the rope way is a must do in Gangtok. Opened in 2003 it operates from 9:30 am to 4:30 pm from Deorali to Namnang till Tashiling. The tickets are available at a reasonable price of Rs.110 per person(adult) and Rs.70 for children. It is a 2 km ride and takes about 10 minutes. It is a double cable zig-zag ride and gives us an astounding view of Kanchenjunga snow peaks, the valleys, river and the entire of the Gangtok township. During this ride we can see the entire Gangtok with a bird's eye view. This will be a remarkable experience so it is recommended not to be skipped.

3. Paragliding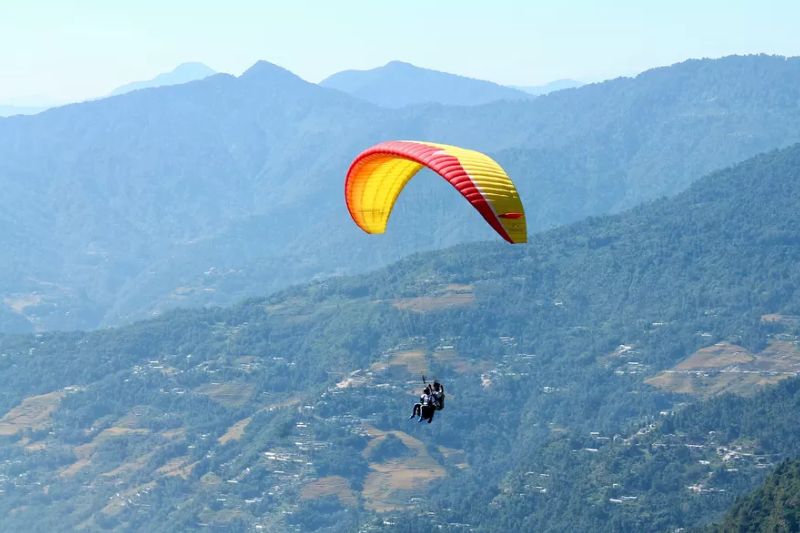 If you are seeking adventure then this is the perfect activity for you. Paragliding is one of the most popular activities in Gangtok as you can enjoy the breathtaking views of the Himalayas right in front of you and the land beneath you filled with nature's wonders.

There are plenty of legit operators available and all of them offer complete safety and a certified pilot accompanies you while taking charge of the entire flight and its navigation.
The height of the flight can be adjusted according to your convenience whether you prefer a high fly or a medium flight, if you prefer a high fly then it will be from Reshithang Village(2200 m altitude, 20-30 mins) and for medium flight it will be from Baliman Dara(1400 m altitude, 5-10 mins). The fee that they charge is very reasonable starting from 2500 to 5000 INR varying from operator to operator. Take a chance and give yourself the wings to fly.
4. Tashi View Point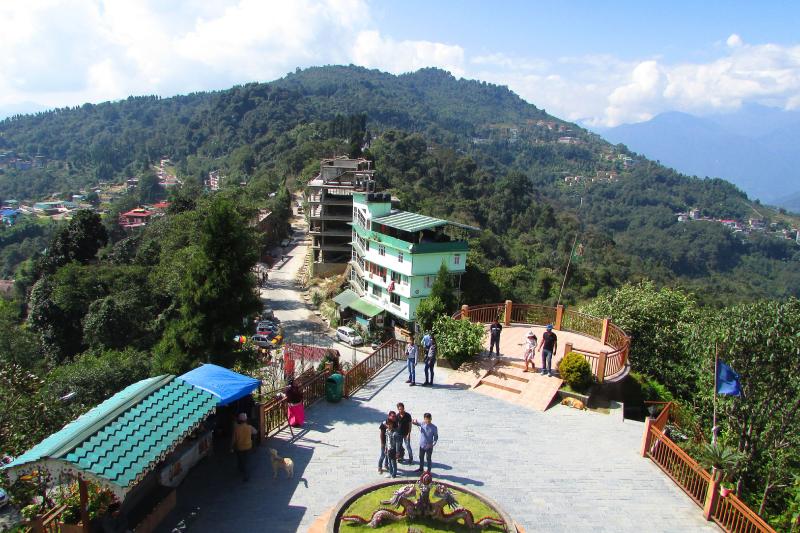 The famous view point is at a distance of 8km away from Gangtok. Tashi View Point is popular for its gorgeous view of sunset and sunrise, on a clear day you can see the sun rise or set while its background changes its color from blue to pink to red to orange and then yellow.
The majestic Kanchenjunga peak can be seen from this point. As if the peaks were not enough to take your breath away, the view of nature, valleys and hills of the surrounding areas will surely be able to mesmerize you.
You can also relish the view of Phodong and Labrang monastery from the view point with a cup of warm coffee or tea as there are shops around and also take a souvenir home to remember this place by. If you wish to have a closer look from the view point you can pay a fee of Rs.10 and enjoy the landscape through binocular and telescope available there.
5. Lal Bazar
Lal Bazar is located just below the M.G Marg and is at a walking distance from all around the town. This market was built in 1956 and is named after J.lal, a Dewan of the Chogyal and since then the market has evolved into a proper shopping complex now known as the Kanchenjunga Shopping Plaza.
Lal Bazar in true ways portrays the vibrant colors of Sikkim, it is the market where local farmers and artisans from around Gangtok come together to sell their local products and daily commodities. Recently there has even been a site for organic vegetable outlets opened.
The bustling bazar is an ideal place for shopping as you get a diverse range of products here from vegetables, fruits, incense sticks, gadgets to shoes and clothes. Everything is available in this bazar. You can literally spend hours here shopping and the fun part is that you get to bargain plus there will be a huge range of options only for you. You won't step out empty handed from Lal Bazar.
6. Seven Sisters Waterfall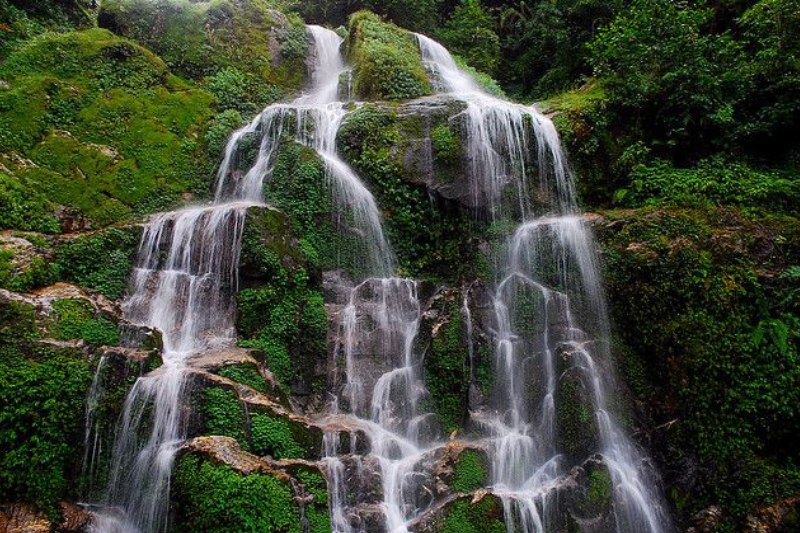 Seven Sisters Waterfall is located on the Lachung Highway about 32 km from Gangtok. It is one of the famous waterfalls in Sikkim and also one of the top tourist destinations. The waterfall has got the name "Seven Sisters" as it is said to fall in seven stages but the visitors are only able to see 4 stages from the bottom while the rest remains hidden between the rocks.
The magnificent view of refreshing water with a background of lush mountains casts a spell on the visitors with its charm and makes it one of the most visited places in this region. The picture perfect beauty of Seven Sister Waterfalls is much loved by photographers and nature lovers. A small footbridge crosses over the stream to give the visitors a better view. For the convenience of the people a waiting shed has been set up and a cafeteria where visitors can take a refreshing break. The waterfalls are surrounded by forests from all sides. The destination is a perfect place to relax and enjoy nature.

7. Tsomgo Lake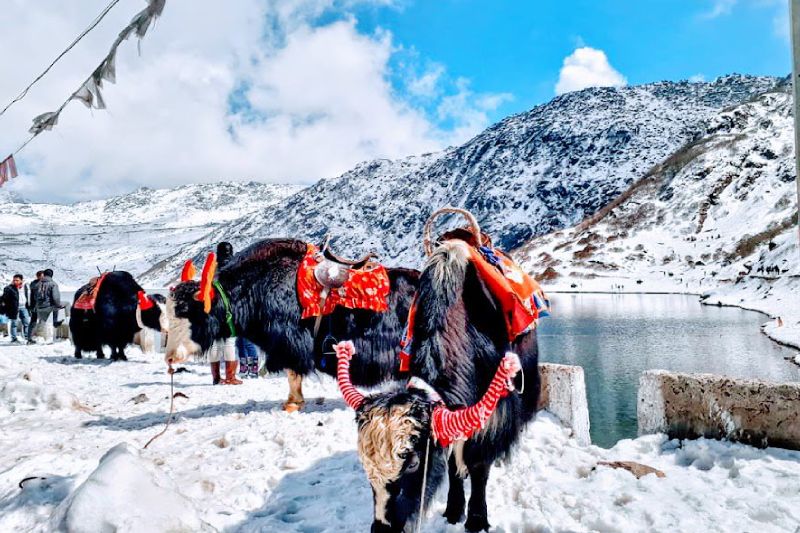 Tsomgo Lake is located at an altitude of 3780 meters above sea level. It is a 2 hours drive, about 40 km away from Gangtok. The glacial lake is surrounded by mountains and is covered by snow during winters. You can enjoy the snow maybe make a snowman and have fun with your company in a snow fight. There are lots of shops in the area so yes you can purchase items and souvenirs at a reasonable price. On paying a small fee you can also take Yak ride around the place.
If you are interested then about a hour drive ahead there is a very renowned temple dedicated to an Indian soldier Baba Harbajan Singh and this temple is believed to be very holy so you can visit the temple and offer your prayers.
8. Nathula Pass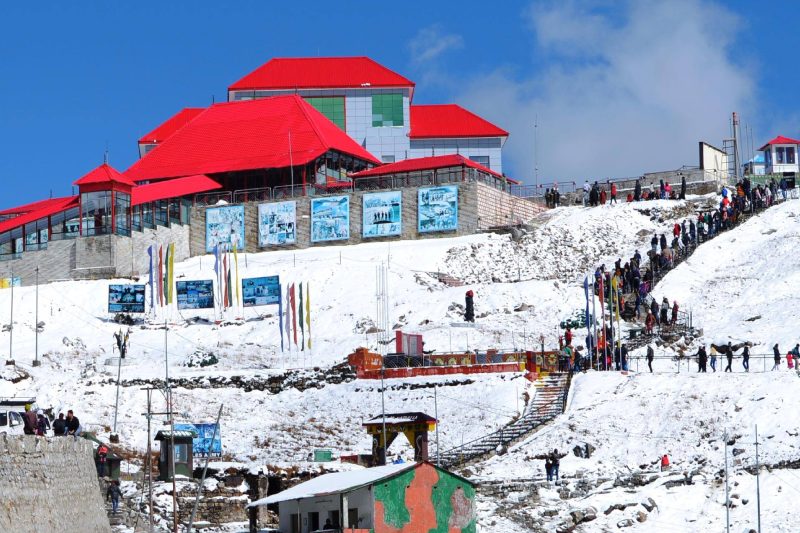 Nathula Pass is located at an altitude of 4300 m and is 54 km away from Gangtok. Nathu La Pass acts as one of the routes between India and China. The place also has historical relevance as it used to operate as the ancient Silk Route until 1962. You can also catch a glimpse of the fenced Indo-China border a few meters away and you can spot both Indian and Chinese soldiers guarding the border.
9. Cycling in the Silk Route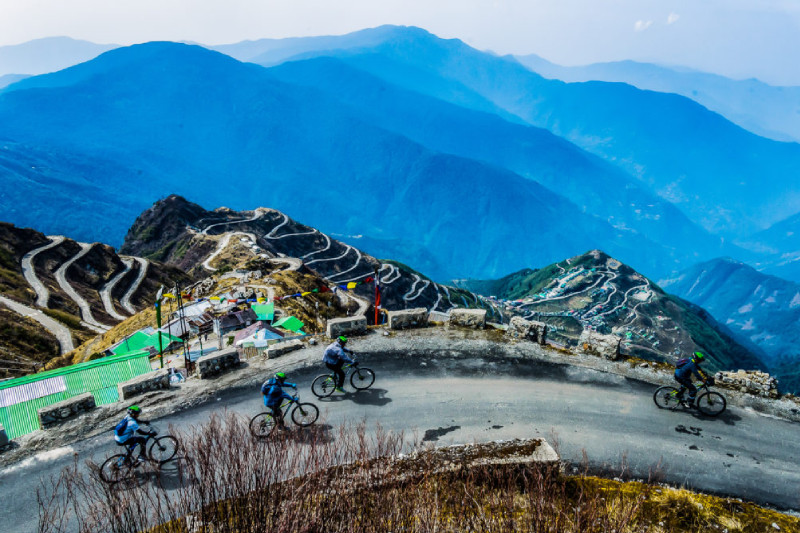 Cycling in the silk route is one of the most thrilling activities to do during your visit to Gangtok. There are proper legit operators present for the booking of the cycling tour, they will provide you with a cycle, helmet and all the other necessities required for this. The cycling tour will be for 7 days, it starts from Sillery Goan and stops at popular spots like Zuluk, Nathang Valley, Reshikhola and many more for camping and sightseeing.
There will be experts present with you during the trip who will arrange for all the required permits and help you with technical understanding of long-distance cycling. Make sure that you carry your water, food, and necessary medicines that you may require during the trip. If you are planning to practice cycling before your trip. Make sure to have proper health before you sign up for this trip for your own safety.
10. Mountain Biking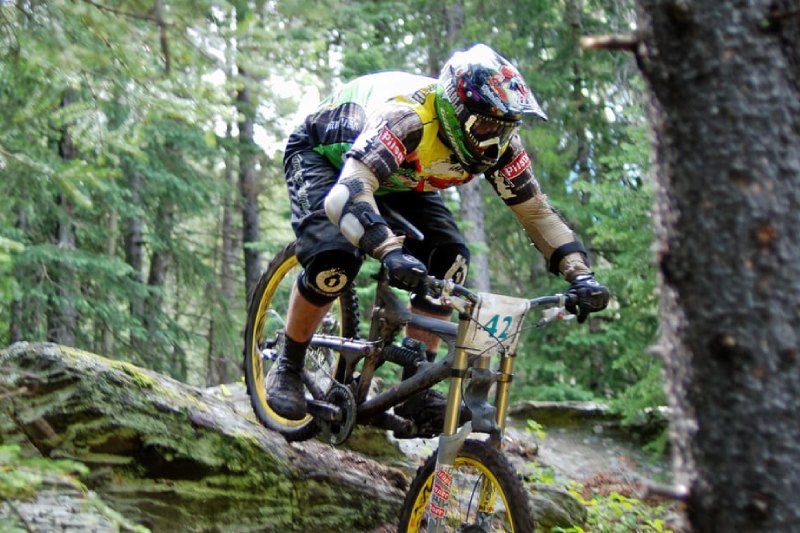 Gangtok has been a treat to mountain bikers, thanks to the grueling tracks that have turned into a biker's delight. Mountain biking in Gangtok boasts of routes that trigger adrenaline and lots of adventure. The duration of this trip can be from a period of four days to full-fledged 15-day trekking as well as biking expedition. Most trails are planned out for you to experience the best of forests, villages, monasteries, rivers, waterfalls, and biodiversity of Gangtok. Depending on the operator and the route, the fee can vary from 8000 INR till 15000 INR. Location: Some of the existing popular routes for mountain biking are:
Gangtok - Phodong - Rangrang - Dikchu Makha - Sirwani - Temi
Gangtok - Rumtek - Sang - Sirwani - Temi - Namchi - Jorethang - Melli
Gangtok - Rumtek - Sang - Sirwani - Temi - Namchi - Namthang - Rangpo
 

11. Hanuman Tok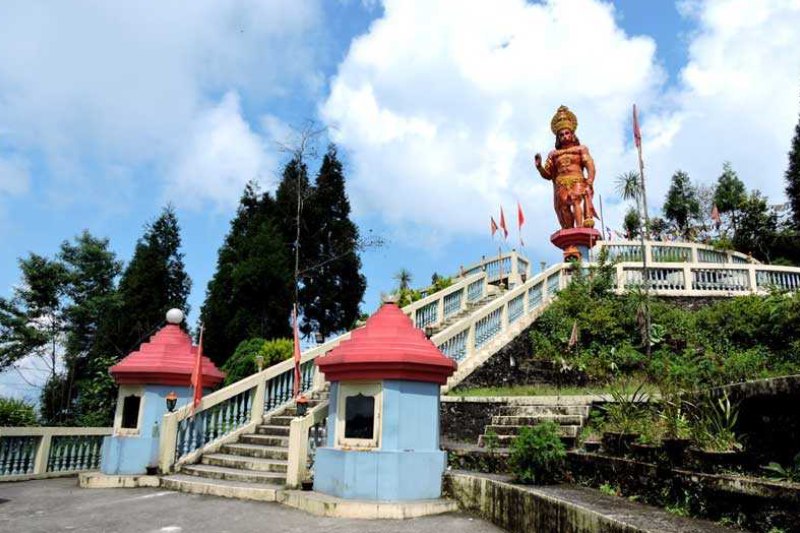 It is situated at a distance of 8.2 km away from Gangtok. Hanuman Tok is a temple dedicated to Lord Hanuman. As soon as you reach the stairs the religious song(bhajan) and prayer bells can be heard. You will be able to feel spiritual, divine and heavenly when you reach the temple top. It is believed that Lord Hanuman took rest on this very place on his way to Lanka from the Himalayas. Away from the bustling noise of the city the temple gives you a serene atmosphere and the view of the adjacent mountains, valleys, hills and also Kanchenjunga will be refreshing.
12. Rumtek Monastery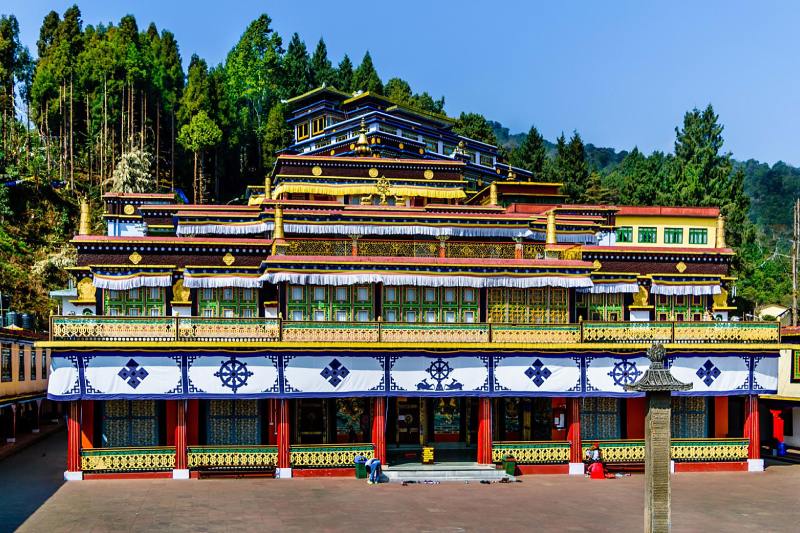 Rumtek monastery is 23 km away from Gangtok. It is one of the largest and the most eloquent monastries of Sikkim, as it is located on top of the hill it gives us an exceptional view of the entire Gangtok. The religious scriptures, murals, statues and thangkhas inside the monastery along with its architecture makes the visit beyond spiritual. The Golden Stupa is where the tomb of the 16th Karmapa is placed and the monastery is also known as the Dharmachakra centre.
13. Banjhakri Falls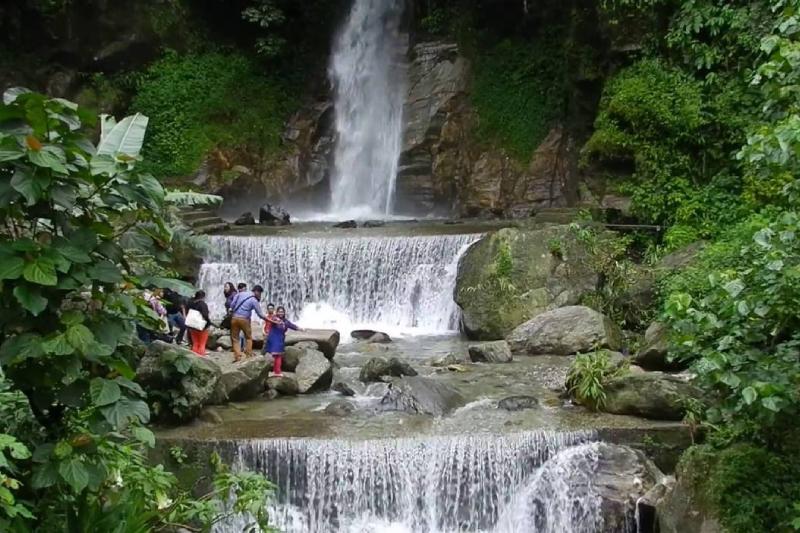 The fall is located 7 km away from Gangtok. It is a 2 km stretched landscape consisting of a 100 foot waterfall, Shaman culture themed architecture, statues of jhakris, forest with paved pathways and footbridges decorated with ornamental trees and flowers. The park has a manmade lake with a dragon statue in the centre with the boating facility. Banjhakri meaning forest priest has always been famous amongst the folk tales. The tale suggests that the priest drives away evil spirits.

The Banjharini also known as lemlemey are infamous as they are believed to be evil. This park is called the energy park because it runs on solar power and also has an area where it promotes  awareness of solar energy.
14. Namgyal Institute of Tibetology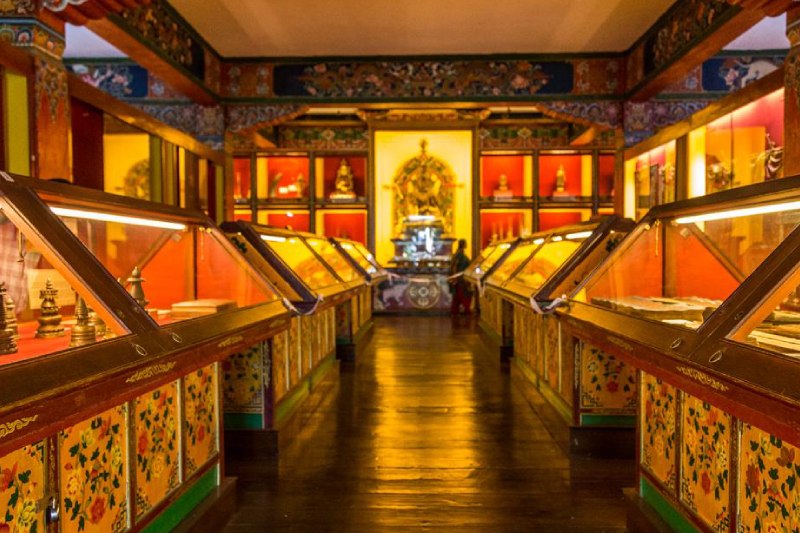 Established on 1st october 1958, the Namgyal Institute of Tibetology(NIT) is a Tibet museum named after the 11th Chogyal of Sikkim, Sir Tashi Namgyal. It is located in Deorali which is at a distance of about 2 km from Gangtok. The foundation stone of the institute was laid by the 14th Dalai Lama in 1957 and was inaugurated by Prime Minister of India Jawaharlal Nehru in 1958. This institute does research work on Tibetian culture and language. The museum is built on the Tibetian architecture and it remains one of the finest till date.
The museum also has a library which has the world's largest collection of tibetian literature and documents. The museum has many rare collections of coins, Tibetian artwork, statues, old scrolls with hand paintings and embroidery work, ancient manuscripts in sanskrit, Tibetian, Chinese and Lepcha. The museum gives us a chance to take a peek into the history which makes the visit worth it.
15. Ganesh Tok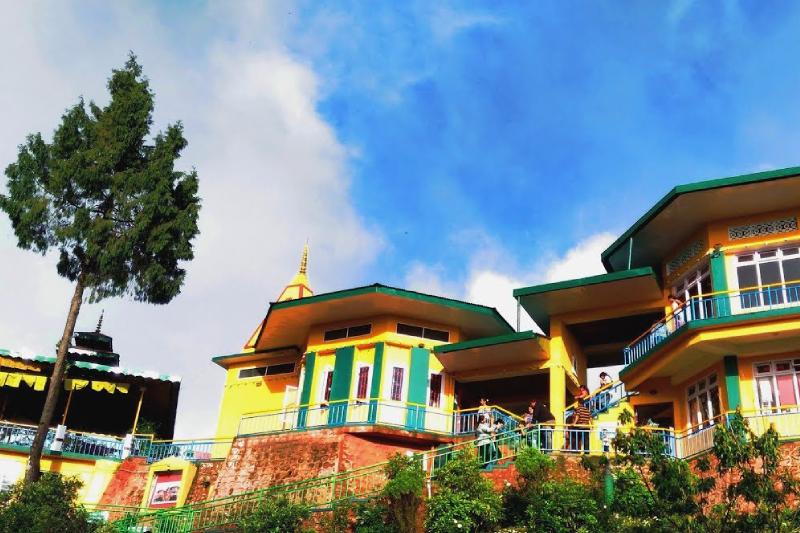 It is at a distance of 5.3 km away from Gangtok. The name Ganesh tok is given because it has the temple of Lord Ganesh. People come here to offer prayers and also to enjoy the refined scenery which can be seen from the top of the temple. As the temple is located right above the town they have a circular balcony with a viewing lounge from where we can get an amazing sight of not only the entire Gangtok but also mountains dusted with snow. If interested you can also rent the cultural outfits from the local shops and take pictures.
 
Need help with planning your trip? Give us a call right away +91 8509732220