On

13-Feb-2020

By

Drive to Northeast
Famous hot springs in Sikkim which you should visit
Sikkim is blessed with many hot springs and the locations of these hot springs are so unpredictably beautiful. The hot spring is a gift from nature to us and the way they are naturally formed is a real art. Your visit to Sikkim can be considered incomplete if you do not take a deep warm dip into one of these hot springs.
Sikkim has many hot springs and they are popularly known for their therapeutic value because of its high content in Sulphur, the waters are believed to have great medicinal properties with the average temperature close to 50c.
Come and feel the warmth of these hot springs which will surely give a revitalising and reinvigorating experience.
Here are few of the famous hot springs listed out for you:
Yumthang Hot Spring
Imagine yourself soaking in hot spring water and at the same time being surrounded by snow capped mountains, yes a place like this exists and it is known as the Yumthang Hot Spring.
This hot spring is one of the most popular hot springs of Sikkim and is located a short distance from the Yumthang village. To reach this hot spring, you will have to take a short walk of about 15 minutes from the road and on reaching Lachuna River you have to cross a small pedestrian bridge. For the convenience of the people there are huts available for changing. A hut has been constructed with two pools which contain hot spring water and they are filled from the hot spring which is situated right behind the hut. You are bound to have a very reviving time here.
Borong Hot Spring
Borong hot springs are natural spas located at Borong near Ravangla, these hot springs are popularly known as Ralang Cha-chu and Borong Cha-chu. Both of these hot springs are situated along the banks of the Rangit River. To reach Ralang Cha-chu you have to walk downhill for about an hour to the Rangit valley from the Ralang monastery and Borong Cha-chu is a 7 km drive from Ralang and further downhill walk.
Temporary huts are available at nominal rates for overnight stays but all bedding and cooking utensils have to be carried along. During the peak hot spring season, there will be small shops selling vegetables and other basic necessities and the locals sell dairy products. Visitors spend days and more soaking in these magical hot springs which are believed to have therapeutic power to cure many diseases.
Surrounded by carpeted hills all around and guided by various exciting trails with amazing views this place is perfect for nature lovers. The best time to visit the hot springs are from December to February.
Reshi Hot Spring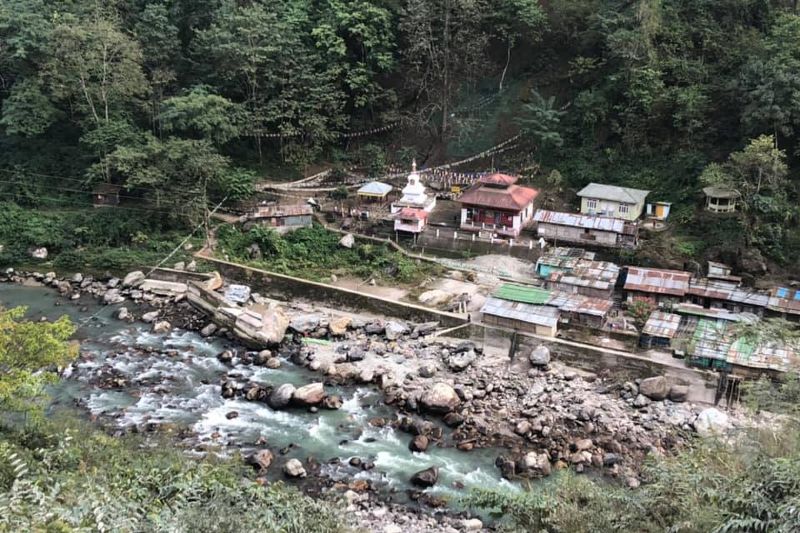 Reshi Hot Spring is one of the most famous hot springs due to the religious significance that it holds. The hot spring is present about an hour downhill drive towards the Rangit River valley. There are temporary huts available for an overnight stay at affordable prices with no bedding or cooking utensils for visitors.
There are small shops nearby selling vegetables and other daily need items. Also known as 'the cave of occult fairies' Lho Khandro Sang Phu is a small monastery and a holy cave situated adjacent to the river. Due to the presence of this cave, the water present in the Reshi Hot Springs is considered to be holy, and a warm soak in the springs is said to be very good to cure all skin diseases. The presence of sulphur makes the temperature of the water perfect to beat the cold air. This place is also a perfect spot for trekking followed by a relaxing dip in the hot spring.
Yumesamdong (or Momay Samdong)
Yumesamdong is located at the base of the Donkia-La Pass, North Sikkim. It is about 25 kms away from Yumthang, there are as many as 14 hot springs here. The entire place is covered by snow almost all year round and hot springs in between all of that snow is a massive beauty. You can also enjoy the mesmerising views of the extreme North along with the hot springs.
Still not sure about going to the hot spring? Here are some health benefits of soaking yourself in a hot spring which you must know.
There is more to hot spring than just having a relaxing time, you do have health benefits from soaking yourself. For thousands of years there has been healing powers of hot springs which has been accepted worldwide as natural treatment options for various common illnesses. With many scientists from all around the world studying treatment of disease by bathing or "balneology", they have discovered many health benefits and they are:
Boost Blood Circulation: The water found in natural hot springs contains a variety of minerals, including calcium and sodium bicarbonate. Our bodies soak up these minerals when we are in a hot spring, which increases circulation and overall oxygen flow.
Reduces Stress and Promotes Sleep: The mineral water in hot springs can also help reduce stress level by relaxing tense muscles. Meanwhile as your body temperature rises in the bath, and then cools once you exit can also help you relax and fall into a deeper sleep.
Relieves Pain: Hot mineral baths may aid in pain relief and fatigue caused by widespread pain. This is because the heat, although sometimes intense, can dull our perception of pain by blocking the pain receptors in our bodies.
Heals Skin Problems: The high silica content found in hot springs can smoothen and soften dry and rough skin. Meanwhile the sulphur contained in the water can also hold medicinal properties that may relieve conditions such as eczema and psoriasis.